It is often said that, "An ounce of prevention is worth a pound of cure." This has a unique but eye awakening truth to it.

Your vision uses up to one third of all your brain power. Nutrition helps feed it.
Therefore, your eyes need the right amount of vitamins in order for them to stay strong. With good nutrition, an active lifestyle, and keeping up with your regular eye exams, you can prevent or prolong age related diseases such as macular degeneration, cataracts, and permanent vision loss.
When done properly and set to your daily lifestyle, dieting can help immensely in increasing overall health with your eyes. It all comes down to the foods you consume and how much.
A diet consisting of junk foods with saturated fats and high sugar content can increase the risk of having eye disease. But, with a healthier diet consisting of fruits and vegetables, you can prevent ocular problems from forming. Your nutrition must be filled with the best vitamins!
Here are some vitamins and foods you can include in your diet to help prevent eye diseases:
Lutein – found in dark green leafy like vegetables (Spinach, Kale) is one of the best known antioxidants for good vision.
Vitamin A – found in beef, chicken, sweet potatoes, and more, may protect against night blindness and dry eyes.
Vitamin C – found in food like kale, sweet peppers, strawberries or oranges, may protect against macular  degeneration and cataracts.
Vitamin E – found in almonds, avocados, salmon,  and more. When combined with Vitamin C, you may  be able to reduce the risk of AMD. (Age-related Macular degeneration)
Zinc –  found in oysters, beef, turkey, wheat germ, wild rice, and more. May help reduce the risk of advanced AMD
Omega 3 Fatty acids – found in foods like salmon, mackerel and walnuts. May help prevent AMD and dry eyes
These vitamins help both your body and your vision, but if you would like to target specifically your visions health, there is a certain combination of vitamins you can take. Usually referred to as "Eye Vitamins".
Research has shown that nutritional supplements help prevent certain age-related eye diseases.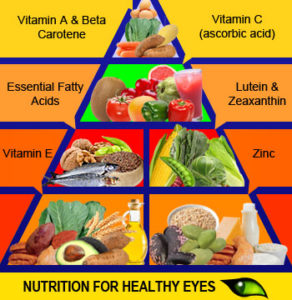 A study called AREDS (Age-Related Eye Disease Study) was conducted, monitoring the effect of combining vitamin C, beta carotene, vitamin E and zinc on the progression of Macular Degeneration. The final results showed that when taking this combination of vitamins, you were less likely to advance the development of AMD.
Another study, called the Blue Mountain Eye Study, conducted an investigation to determine the relationship between macro and micro nutrients. This included antioxidant vitamins and the three main types of cataracts usually found within older people. They were able to come to the conclusion that, when Vitamin A, niacin, Thiamin, and riboflavin were consumed, there was reduced occurrence of nuclear cataracts.
The best way to determine a proper and accurate combination of vitamins for your specific vision needs is to consult your local optometrist or eye care professional. Don't wait until you have already developed a vision problem. Try your best to have this conversation in order to determine the right combination to help save your eyes from potential diseases.
Sources:
http://www.waterdownoptometric.ca/view/article_155.3conx
http://www.allaboutvision.com/nutrition/nutrition_summary.htm
http://www.ncbi.nlm.nih.gov/pubmed/10711880