The History of Lifetime Eyecare
Lifetime Eyecare has developed into one of the most esteemed local businesses for its tireless work in eyecare and eyewear.

We haven't only been winning awards and receiving recognition from the local business community, we also have been voted by the community as the #1 Best Eyeglass Center in New Westminster seven years in a row (2008 – 2014) as well as having been named as the "Reader's Choice" Awardee for Optometry six out of seven years between 2008 – 2014.

Perhaps most telling, we have maintained an A+ Rating with the Better Business Bureau, developed a 4.4 star rating with Google reviewers, a 5-star rating on Yelp, and even have a 4-star rating on YellowPages.ca.
What this illustrates is that we are very popular with the most important people of all – our customers and eyecare patients.  Our Eye Doctors, Eye Specialists, Opticians and Eyeglass Experts are truly popular with our customers.  Why?  Because we care about you, about your eyes and how great you look in eyewear.  We take the time to help you find the very best frame and our Optometrists are friendly, experienced and truly dedicated to you.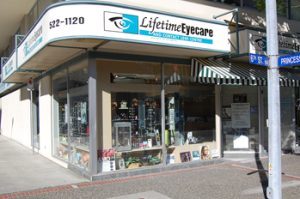 Lifetime Eyecare's history in the Lower Mainland goes back an astonishing 83 years.  That's right. In 1929, Dr. G.D. Moore & Dr. D.G. Frewin first started the company as Ebert Howe & Associates in Woodward's Department Stores.  The practice grew to 7 offices and 12 Optometrists.  Sadly, in the 1970's the Board of Examiners in Optometry instructed the company to stop practicing in department stores.  The logic employed at the time: "The practice of providing Optometry in a department store was unethical."
There was a prolonged court battle that resulted in an out-of-court settlement which sadly broke up the 7 office-chain.  The main location, the first location, was right here in New Westminster, only one block from its original location on 6th street and 6th avenue.  Today Lifetime Eyecare, owned and operated by Dr. S. Bachra, has grown from its post-break up period and today Lifetime Eyecare is one of the local leaders in eyecare and designer eye wear.
Lifetime Eyecare Has Expanded
Today Lifetime Eyecare has expanded its practice considerably and has become a true destination eyeglass and eyecare centre. We have clients coming from far and wide to see our Optometrists, Opticians and Ophthalmologists, for their annual eye exam, to pick out their next pair of designer eyewear, or to be fitted with either contact lenses or Ortho-K Treatment lenses.  Since 2008, we are proud to report that Lifetime Eyecare has grown by over 40%.  This year (2014) is on a record-pace and it appears that this will be the seventh year in a row of record gains and an all-time high in sales for this 85 year old company.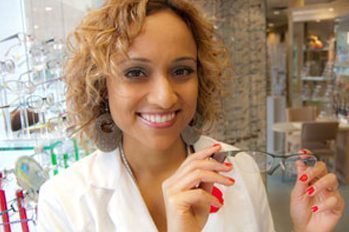 Dr. Bachra, and her amazing staff (headed by Manager/Buyer Dawn Drever) are two of the many reasons why you will experience great customer service with tremendous quality of eyewear products. We put the quality of your experience as a patient and a customer at Lifetime Eyecare as our #1 priority…and it shows.  This is why Lifetime Eyecare is one of the fastest growing eyecare and eyeglass centers in the entire Lower Mainland.
Eye Specialist At Lifetime Eyecare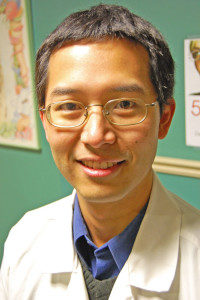 We are also very proud to announce that in 2011 we added Dr. Diep (Ophthalmologist and Retinal Specialist) to the Lifetime Eyecare team (photo on left).  Now you can see an Eye Specialist within a matter of weeks, NOT MONTHS as with other eye care clinics. Also, when you receive a referral from our Optometrist to see Dr. Diep, you never pay a dime for any specialist appointments.*  You see, we want you to know that everything we do, we do for you – so that you have the finest and most pleasurable experience possible .
Designer Frames of the Highest Quality
We have also expanded our frame bar selection, carrying only the finest designer and fashion eyeglass and sunglass frames.  In fact we now carry as many as 100 different eyeglass and sunglass designer lines.  With names such as Prada, Fendi, Gucci, Versace, Burberry, LaFont, Christian Dior and so much more, you really should come and take a look for yourself.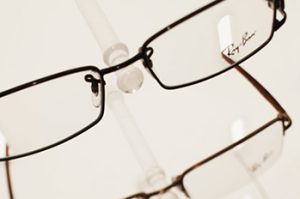 Award Winning On-Site Lens Lab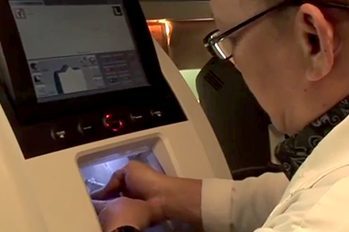 Every day we are open (Monday – Saturday) our Opticians work on your eyeglasses, your lenses, your sunglasses, children's frames and so much more. Our Optical Lab has edged more lenses on-site than any other eyeglass or eyecare centre…period!  Our eyeglass and lens experts have over 40 years combined experience among them.
…and we ONLY carry the truest, highest quality prescription lens from Nikon and Essilor. Many optical centres in Canada buy low quality lenses from abroad or from their so-called "in house" lens producing labs and sell them at 500% markups or more. This is NOT how we do business. Even our lower cost lenses are top quality for their price range.
Come visit us, talk to Yiannis or Kate and see why we keep being voted #1 year after year!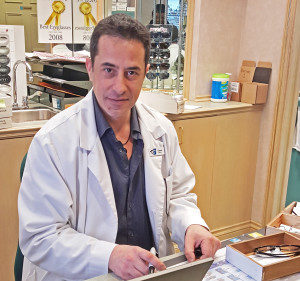 Lifetime Eyecare is a company that is dedicated to maintaing the work ethic, the service ethic,and the quality ethic of the days of old, with the most cutting edge,, designer frame in the marketplace today.  We bring hands-on, knowledgeable service and combine it with active social media, direct email newsletters and special ineractive contest for our exclusive customers.  We are equipped with high-tech lenses, lens-edging technology and top of the line eyecare delivery equipment.  All of these reasons, plus our amazing PEOPLE, make us the #1 Best Eyeglass Centre year after year.
* All exams and other procedures that are covered by the B.C. Medical Services Plan enable nearly all patients to never have to pay out of pocket for any visit to see Dr. Diep.  If there is a procedure or treatment that is not covered by MSP, Dr. Diep will always notify the patient that there will be a specific charge for a specific procedure.