Virtual Reality Can Cause Real Damage to Children's eyes.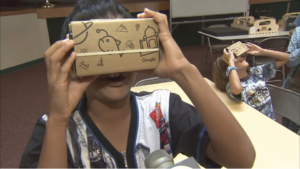 Kids usually are great with new technology, from tablets to the new trend in video games called Virtual Reality games (VR). Optometrists are warning parents about the new products hitting the shelves lately. VR headsets, usually too big for kids' heads, are meant for adult eyes and may cause damage to the eyes of kids under the age of 13.
Vancouver optometrist Dr. Justin Asgarpour commented "These devices are designed mostly for adult use. What a study has suggested is that a VR device can actually trigger what we call amblyopia, a potential lazy eye, in these children with pre-existing visual conditions."
It is also possible that children without any vision problem can experience them, like temporary double-vision, after using the headsets. Doctors have warned that the devices can also lead to disorientation and balance issues. Parents are not advised to let their children play with the devices, or to at least limit their time spent playing virtual reality games.
There is a Health and Safety Guide on the Oculus Rift website stating "This product should not be used by children under the age of 13, as the headset is not sized for children and improper sizing can lead to discomfort or health effects, and younger children are in a critical period in visual development."
You can read more about the subject on the CTVNews website.